Cette page a pour but de retrouver l'habitat naturel des animaux sauvage. La page de droite est pour les animaux que nous connaissons (sauf le panda mais mon petit garçon étant à moitié chinois, je ne pouvais pas, ne pas le mettre) et la page de gauche pour les animaux africain.
This page teaches kids wild animals' habitat. The right page is for western animals (europe and america) (except for the panda, but my little boy being half chinese I could not, not put that one) and the left page is for african animals.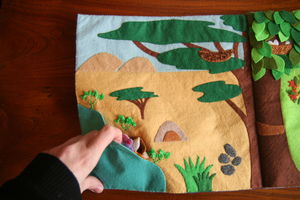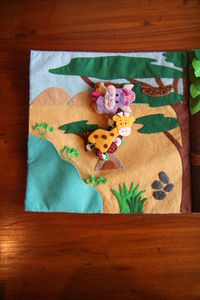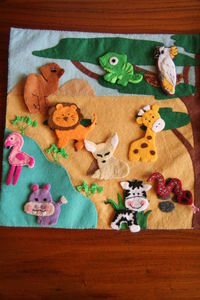 Chameau, caméléon, perroquet, girafe, serpent, zèbre, fénec, lion, flamant rose et hippopotame
Camel, chamelon, parrot, giraffe, zebra, fenec, lion, flamingo and hippopotamus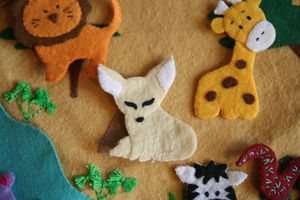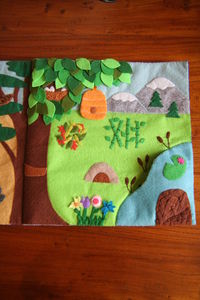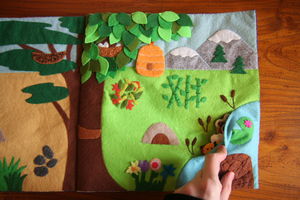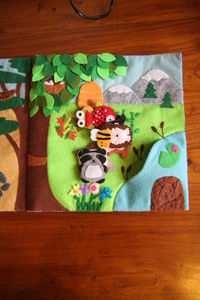 Rouge gorge, abeille, écureuil, hérisson, papillon, panda, grenouille, ours, castor, poisson rouge et raton laveur
Robin, bee, squirrel, hedgehog, butterfly, panda, frog, bear, beaver, gold fish and raccoon

Et voici la page complète :
And there is the finished page :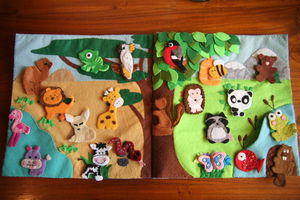 J'avais fait une page similaire dans le quiet book semaine de la fée clochette "le mercredi" , mon petit garçon aimait tellement jouer avec les animaux que cette page se devait d'être dans son quiet book.
I did make a similar page in the fairy quiet book, my little boy liked to play with the animals so much, this page had to be part of his quiet book.