A propos de l'auteur calendria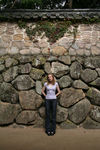 Quelques mots sur moi
Je m'appelle Christine et habite en Chine depuis maintenant 8 ans. J'aime bricoler et faire partager mes réalisations. J'ai pendant longtemps abandonné mon blog faute de temps.
Jeune maman d'un petit garçon de 15 mois, j'ai encore plus d'idées de bricolage et beaucoup moins de temps pour les réaliser qu'avant. Je vais donc poster des photos sans tuto de ce que je fait. Si quelque chose vous plait particulièrement n'hésitez pas à m'écrire pour me demander des conseils.


My name is Christine, I am French and have been living in China for 8 years. I really like to craft and share my projects with friends. I've been away from this blog for quite a while because I didn't find time to post regularly enough.
Now I'm a new mom of a 15 months old boy. Being a mum give me even more craft ideas (quiet book, soft toys...) but I have even less time than before to make it. Therefore I am going to post pictures of my craft without any explanation. If you like something, please writte to me I'll do my best to explain the making process.