Le nouvel an chinois arrive le 10 février. Et c'est TRES important. Pour fêter cela une petite page de quiet book s'imposait.
Voici donc ma version de l'évènement. (version incomplète, mais la page de droite sera bientôt en ligne)
Chinese new year is coming on the 10th of February. It is VERY important. To celebrate I had to make a quiet book page.
There is my idea of this event (this is the left page, I am working on the right side, I'll try to post it quickly)
Cette page représente une porte traditionnelle chinoise.
This page represent a traditionnal chinese door .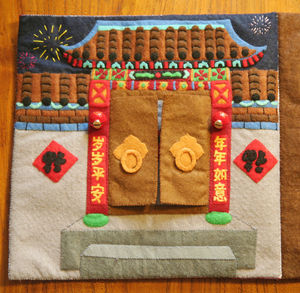 De chaque côté de la porte il y a une inscription en chinois ainsi qu'une lanterne chinoise sous forme de grelot
On each side of the door, you can read chinese words with small bells representing chinese lanterns
A droite de la porte l'inscription "Nian nian Ruyi" (Que cette année voit tes voeux se réaliser) et à gauche "Sui sui Ping an" (Paix et sérénitude à tous)

On the right side of the door "Nian nian Ruyi" (May all your wishes become true this year) and on the left side "Sui sui Ping an" (Peace to everybody)

Un détail des feux d'artifice
A close look to fireworks

Enfin on peut ouvrir la porte
Finally we can open the door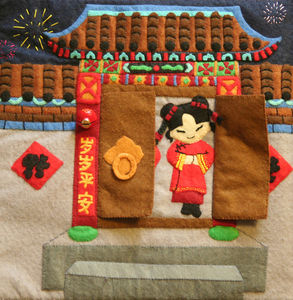 Une petite fille
A girl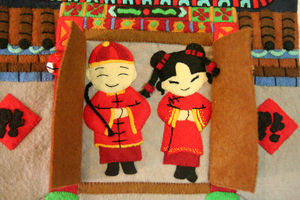 Et un petit garçon vous souhaitent une bonne année
And a boy together wihing you a Happy new year
"Guo Nian Hao"
Il y a également une enveloppe rouge dans laquelle on place traditionnelement les étrennes.
There is also a red envellop in which you can find money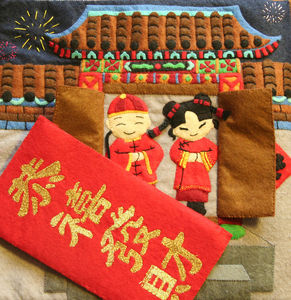 Dans l'enveloppe il y a deux billets de 100 RMB (de faux billets reçus au fil des ans, qui vont finallement être utile)
Inside the enveloppe there are 2 bills of 100 RMB (2 fake bills that I collect (kind of) over the years, it will finally be useful)